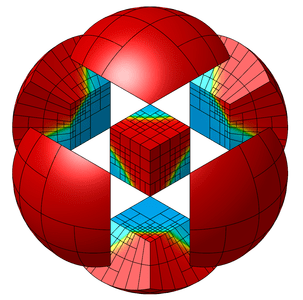 MFEM is a free, lightweight, scalable C++ library for finite element methods.
Features
MFEM is used in many projects, including BLAST, XBraid, VisIt, the xSDK, the FASTMath institute in SciDAC, and the co-design Center for Efficient Exascale Discretizations (CEED) in the Exascale Computing Project.
See also our Gallery, related publications and project news updates.
For older releases see the download section.
Documentation
Building MFEM ┊ Serial Tutorial ┊ Parallel Tutorial ┊ Code Overview
Finite Element Method ┊ Electromagnetics ┊ Meshing
New users should start by examining the example codes.
We also recommend using GLVis for visualization.
Use the GitHub issue tracker to report bugs or post questions or comments. See the About page for citation information.